Trevor Paglen »
The Octopus
20 JUN – 30 AUG 2015
Fri 19 Jun
FRANKFURTER KUNSTVEREIN
Markt 44
60311 Frankfurt (Main)
[email protected]
www.fkv.de
Tue-Fri 11-19, Thu 11-21, Sat/Sun 10-19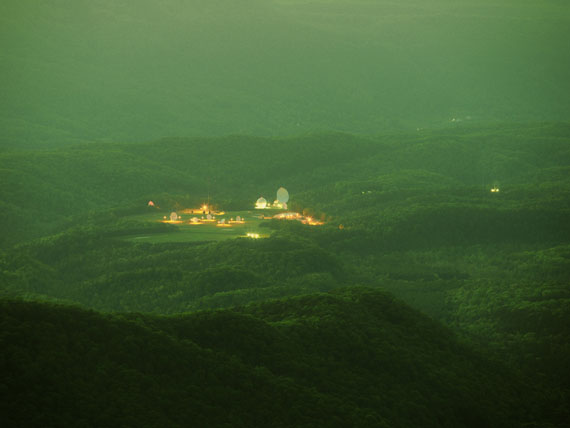 Trevor Paglen: They Watch the Moon, 2010
© the artist, Courtesy Galerie Thomas Zander, Köln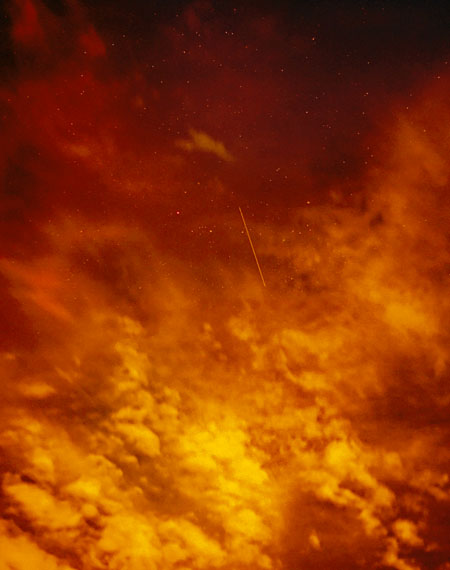 Trevor Paglen
"The Octopus"
Exhibition: June 20 – August 30, 2015
Opening: June 19, 7 pm (as part of the opening of the RAY 2015 Triennial)
8.30 pm at Frankfurter Kunstverein: Trevor Paglen will announce the winner of the Eagle-Eye Photo Contest
The Frankfurter Kunstverein presents a comprehensive exhibition of work by American artist Trevor Paglen (born 1974 in Maryland, USA) entitled "The Octopus", which deals with topics such as surveillance and political influence. On view are photos of landscapes in the era of big data, image series of military places and secret surveillance techniques, video works along with extensive materials and documents from Paglen's investigatory research practice. The sculpture "Autonomy Cube", an open Wi-Fi hotspot, illustrates together with "Eagle-Eye Photo Contest: Landscapes of Surveillance," a photo competition created for the exhibition and open to the public, Paglen's new artistic approach: he would like his work to trigger actions that have an influence on society and that reach out beyond the institutional spaces of art into the real world. The photographs of the contest will be presented in the exhibition.
Ever since the revelations of Edward Snowden initiated the NSA scandal in June 2013 and brought the subject of surveillance through private data storage into the forefront of the minds of many citizens, Trevor Paglen has been investigating this issue for more than a decade already. A researcher and cinematographer in the team for the 2015 Oscar-winning documentary "Citizenfour" about the Snowden affair directed by Laura Poitras, the artist photographs secret locations of the NSA and CIA, covert military bases, supply routes to secret prisons or hidden listening stations, and trajectories of secret surveillance satellites and drones. Paglen works like an investigative journalist: through lengthy research, in collaboration with activists, scientists, programmers, amateur astronomers and technicians, he is able to track down and make visible state-ordered and undemocratically legitimized monitoring and surveillance. The geography graduate attempts to capture the technology and infrastructure needed for monitoring and surveillance such as satellites or drones for the first time ever in an image. Through his work he demonstrates that the secrets are not invisible, but rather constitute an organizational form. His political work leads to an artistic work, which brings the focus on a new way of seeing.
Within an extensive accompanying program of panel talks, expert presentations, excursions and guided tours, with central contributions from the Cluster of Excellence "Normative Orders", the topics of the exhibition will be discussed in a broader manner.
On June 21, 2015 at Frankfurter Kunstverein, Trevor Paglen will receive the German Photographic Association's (DGPh) cultural prize for his work.
The exhibition is taking place within the RAY 2015 Photography Projects Frankfurt Rhine/Main and is also a collaboration with the Cluster of Excellence "The Formation of Normative Orders" at the Goethe-Universität Frankfurt am Main. The media partner of the exhibition is the Journal Frankfurt.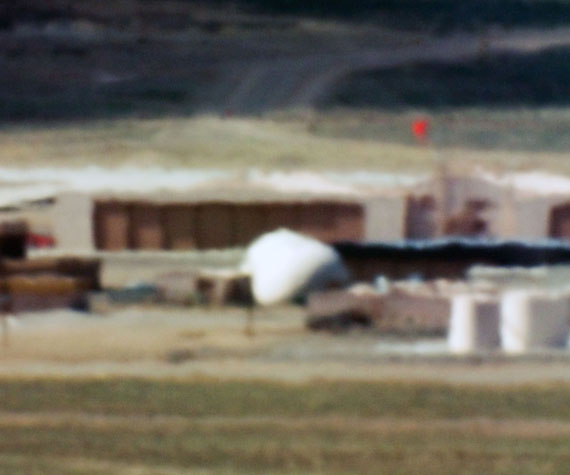 Trevor Paglen
"The Octopus"
Ausstellung: 20. Juni bis 30. August 2015
Eröffnung: Freitag, 19. Juni, 19 Uhr (im Rahmen der Eröffnung der Triennale RAY 2015)
20.30 Uhr: Trevor Paglen gibt den Preisträger des Eagle-Eye Photo Contest bekannt
Der Frankfurter Kunstverein zeigt eine umfassende Werkschau des US-amerikanischen Künstlers Trevor Paglen (geb. 1974 in Maryland, USA), die sich unter dem Titel "The Octopus" mit Themen wie Überwachung und politische Einflussnahme beschäftigt. Zu sehen sind farbgewaltige Landschaftsbilder im Zeitalter von Big Data, Bilderserien von militärischen Orten und geheimen Überwachungstechniken sowie Videoarbeiten zusammen mit weitreichenden Materialien und Dokumenten aus Paglens Recherche- und Forschungspraxis. Die Skulptur "Autonomy Cube", ein offener WiFi Hot Spot, verdeutlicht gemeinsam mit seinem neuen partizipativen Werk, dem im Vorfeld der Ausstellung ausgelobten Fotowettbewerb "Eagle-Eye Photo Contest: Landschaften der Überwachung", den neuen künstlerischen Ansatz Paglens: Er möchte mit seiner Arbeit Aktionen anstoßen, die einen Einfluss auf die Gesellschaft nehmen und aus den institutionellen Räumen der Kunst in die reale Welt hinausreichen. Die eingereichten Fotografien des Wettbewerbs werden in der Ausstellung präsentiert.
Rückte der im Juni 2013 durch Enthüllungen Edward Snowdens ausgelöste NSA-Skandal das Thema der Überwachung durch anlassloses Speichern von privaten Daten überhaupt erst ins Bewusstsein vieler Bürger, setzt sich Trevor Paglen bereits seit über einem Jahrzehnt mit dieser Thematik auseinander. Der 2015 als Rechercheur und Kameramann im Team um den Dokumentarfilm "Citizenfour" der Regisseurin Laura Poitras über die Snowden-Affäre mit einem Oscar ausgezeichnete Künstler, fotografiert geheime Standorte der NSA und CIA, verborgene Militärbasen und Transportwege zu Geheimgefängnissen oder versteckte Abhörstationen und Flugbahnen geheimer Überwachungssatelliten und Drohnen. Paglen arbeitet dabei wie ein investigativer Journalist: durch langwierige Recherchen, in Zusammenarbeit mit Aktivisten, Wissenschaftlern, Programmierern, Amateurastronomen und Technikern gelingt es ihm, staatlich angeordnete und nicht demokratisch legitimierte Kontrolle und Überwachung aufzuspüren und sichtbar zu machen. Der studierte Geograf unternimmt den Versuch, die notwendige Technik und Infrastruktur für Kontrolle und Überwachung wie Satelliten oder Drohnen oftmals zum ersten Mal überhaupt in einem Bild fest zu halten. Durch sein umfangreiches Werk macht der Künstler deutlich, das Geheimnisse nicht unsichtbar sind, sondern vielmehr eine Organisationsform darstellen. Seine politische Arbeit mündet in einem künstlerischen Werk, durch das eine neue Art des Sehens thematisiert wird.
Im Rahmen eines umfangreichen Begleitprogramms aus Podiumsgespräch, Expertenvorträgen und Führungen, mit zentralen Beiträgen des Exzellenzclusters "Die Herausbildung normativer Ordnungen", werden die Themen der Ausstellung diskutiert und vertieft.
Trevor Paglen bekommt am 21. Juni 2015 im Frankfurter Kunstverein den Kulturpreis der Deutschen Gesellschaft für Photographie (DGPh) verliehen.
Die Ausstellung findet im Rahmen der RAY 2015 Fotografieprojekte Frankfurt Rhein/Main statt und ist zudem eine Kooperation mit dem Exzellenzcluster "Die Herausbildung normativer Ordnungen" der Goethe-Universität Frankfurt am Main. Medienpartner der Ausstellung ist das Journal Frankfurt.