FOTOGRAFIE FORUM FRANKFURT
KOMMENDE VERANSTALTUNGEN │ UPCOMING EVENTS
AUSSTELLUNGSERÖFFNUNG / OPENING
Freitag, 03. Oktober, 19 Uhr / Friday, October 3, 7pm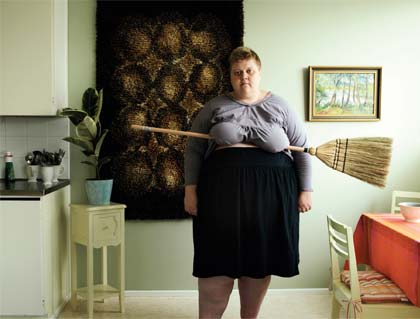 Foto/Photo: Iiu Susiraja, Luuta, aus der Serie »Hyvä käytös«, 2008–2010, ©Iiu Susiraja
»Potretti. Contemporary Finnish Photography« stellt sieben zeitgenössische Fotografen aus Finnland vor, die sich mit charakteristischen Methoden und Medien, wie Fotografie, Film, Video und Collage dem Genre Porträt verschrieben haben. Kindheit, Jugend, Körper, Mutterschaft, Familie, Altern, Gewalt und die Fotografie selbst sind die Leitmotive der Ausstellung. 
Weitere Informationen
In "Potretti. Contemporary Finnish Photography" seven contemporary photographers from Finland are being shown together using diverse methods and media such as photographs, film, video, and collage. Themes of childhood, youth, the body, motherhood, family, aging and violence and photography itself are leitmotifs, which accompany this exhibition. More Details
VORTRAG / LECTURE
ELINA BROTHERUS
THE ARTIST AND HER MODEL
NEUER TERMIN / NEW DATE Samstag, 11. Oktober, 18 Uhr / Saturday, October 11, 6pm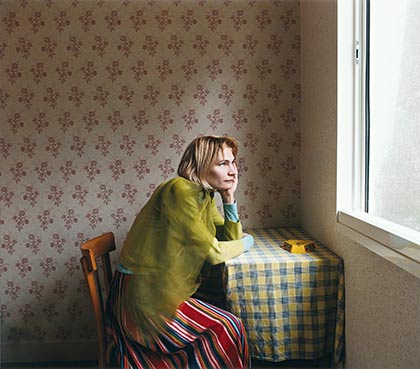 Foto/Photo: ©Elina Brotherus, Le Printemps, 2001
Elina Brotherus (*1972) ist Foto- und Videokünstlerin. In ihren Arbeiten befasst sie sich mit subjektiven und doch universellen Erfahrungen, wie der Präsenz und dem Fehlen von Liebe, erforscht die emotionale Landschaft oder das Verhältnis der Fotografie zur Kunstgeschichte. An diesem Abend wird Elina Brotherus eine Übersicht ihrer Arbeiten von 1996 bis 2014 und die Geschichten dahinter präsentieren. 
Weitere Informationen
Elina Brotherus (*1972) works in photography and video. Her work deals with subjective experiences, the presence and absence of love, exploration of the emotional landscape, or probing the relation of photography to art history. On this evening Elina Brotherus will present her work from 1996 to 2014 and the stories behind her photographs. More Details
WORKSHOP
ELINA BROTHERUS
PORTRAIT PHOTOGRAPHY »THE ARTIST AND HER MODEL«
Samstag/Sonntag, 11./12. Oktober, 10–18 Uhr /
Saturday/Sunday, October 11/12, 10 am to 6pm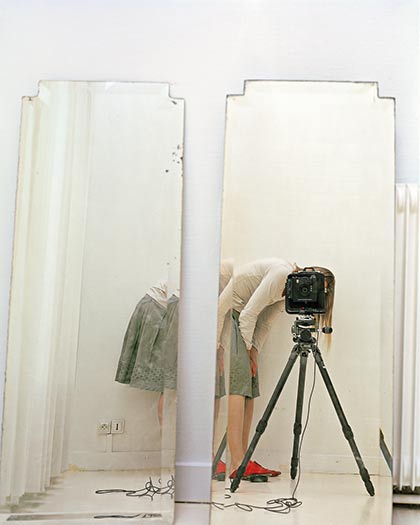 Foto/Photo: ©Elina Brotherus
Die finnische Fotografin Elina Brotherus (*1972) arbeitet oft mit Selbstporträts, in denen sie sich selbst mit dem sie umgebenen Raum kombiniert, um die Beziehung dazwischen zu untersuchen. Im intensiven Workshop erforschen die Teilnehmer zusammen mit Elina Brotherus neue Betrachtungsweisen der Autobiografie und versuchen im praktischen Teil über deren Gewöhnlichkeit hinaus zu gehen. 
Weitere Informationen
The Finnish photographer Elina Brotherus (*1972) works with self portraiture which she combines with her environment and work space to investigate the relationship between these subjects. In this intensive workshop Elina Brotherus will probe and discuss a new approach to autobiography with the participants, to go beyond the ordinary self-depiction. More Details
WEITERE VERANSTALTUNG/ MORE EVENTS
VORTRAG/LECTURE
»Collecting and Exhibiting at The Finnish Museum of Photography in Helsinki«
Elina Heikka, Direktor/Director Finnish Museum of Photography, Helsinki
Mittwoch, 22. Oktober 2014, 19 Uhr / Wednesday, October 22, 2014, 7pm
Fotografie Forum Frankfurt
PODIUMSDISKUSSION/PANEL DISCUSSION
»The Photobook – a Tribute to Photography«
Celina Lunsford, Fotografie Forum Frankfurt; Klaus Kehrer, Kehrer Verlag;
und andere/among others
Samstag, 11. Oktober 2014, 15–16 Uhr / Saturday, October 11, 2014, 3–4pm
Frankfurter Buchmesse/Frankfurt Book Fair, Stand Stiftung Buchkunst Q17, Halle 4.1
Weitere Termine im Kalender.